Skip to Content
Wedding FAVORS!
Good gravy! The options for wedding favors are endless! If you're a decisive person, this should be easy for you- go in with a plan and get out. Then there's me-I love it all, I think everything is adorable and nifty, and who doesn't need ALL of this stuff!? If you're like me and need wrangled in and tamed a bit on this quest, I have a few tricks that are helping me narrow the choices down.
Fun fact: Wedding favors are small gifts that are given to your guests as a sign of appreciation for their attendance. The tradition of distributing bonbonnieres (wedding favors) is a very old one. European aristocrats first began distributing sugar cubes in small trinket boxes made of crystal, porcelain and other precious stones. As sugar became more affordable, almonds were then handed out to wedding guests to signify well wishes to the new husband and wife.
Wedding favors today are now a stapling in the wedding reception planning process and they can be just about anything- from Scented soaps to personalized glassware, wedding favors have completely evolved!
Design, Color & Season: Designs range from traditional to trendy with an assortment of color options to match any color scheme. Palm trees and flip flops for the tropical beachy wedding. Kissing fish, birds on a branch and butterflies for nature lovers or more iconic designs like toasting flutes, wedding bells or interlocking hearts…. Adding your wedding colors to the favor ties it all together. Just by adding a ribbon around a candle favor, it adds a personal touch and lets the guests know this was thought out.
DIY: This is too much fun! Not only does this save you $$ but it also adds personal details to the wedding that really makes you feel proud! All the guests walk away with candles you scented and made yourself is an extra detail that people notice and appreciate! Pinterest has the cutest ideas all in one spot, therefore I can't push this website enough! PINTEREST.COM- search DIY wedding favors- and then let your creative juices flow!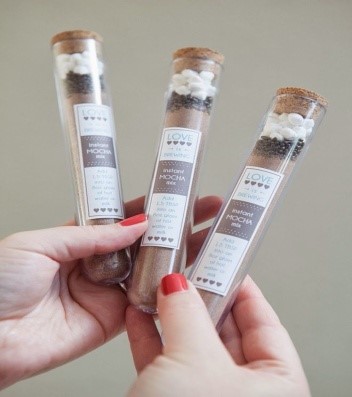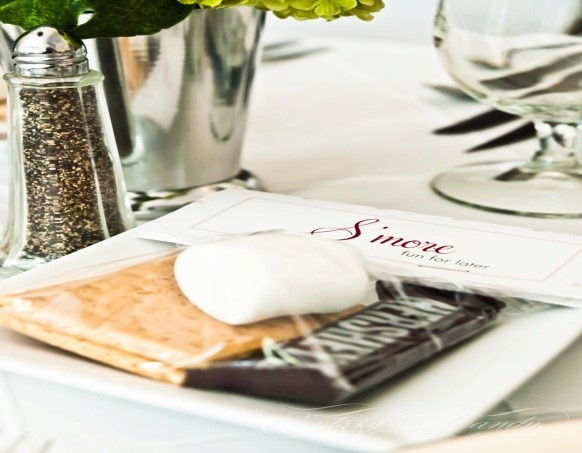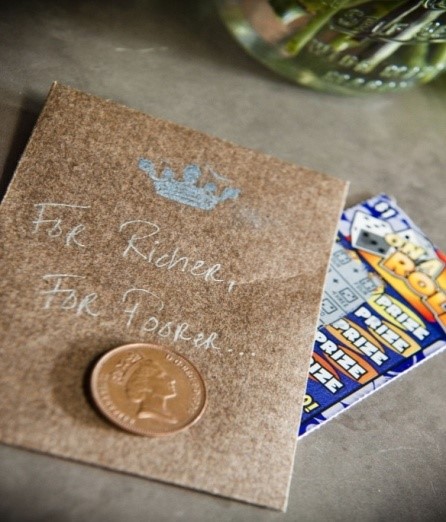 Double Duty: Have a dessert bar! Then just by placing take home bags or miniature boxes on the side, your dessert table doubles as a take home favor! This works especially well for candy snacks. Favors that are labeled with the guest's name can be a practical and stunning fun way to mark seating arrangements. Placing the favors into the centerpieces and making them part of the decor is a way to add height and character to any arrangement. This is a great concept. Cali (My MOH getting married in Vail in July) is actually putting two-three different varieties of small plants on her guests' tables, to be taken home. Not only does this add to an already fantastic display but it gives character and thought to the centerpieces.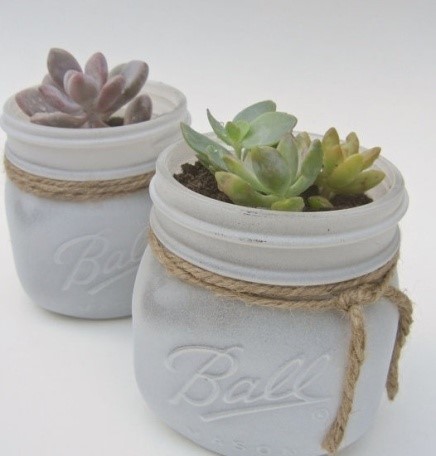 The choices! There are so many styles and types of favors that making a decision on which is right for your wedding can be daunting. I am back and forth every day on which favor Jeremiah and I are going to use. My only advice is to make sure it's what you want. Being that there are so many options it's easy to pick something easy and fun. The key is to make sure it goes with your theme and style of your wedding. If you decide to be crafty and DIY favors-just remember to be realistic with the difficulties of certain items and set aside the amount of time needed to complete
These are just some of the MANY sites out there to help organize your thoughts and preferences for wedding favors. Enjoy!
http://www.weddingfavordiscount.com/Personalized-Wedding-Favors-s/77.htm
http://www.myweddingfavors.com/
http://weddingshop.theknot.com/wedding-favors.aspx
<3 Meagan
Next Week: Centerpieces
"It's not how much we give but how much love we put into giving." ― Mother Teresa
We Are So Much More Than Chairs