Skip to Content
Canopy and Tent Rental in Denver, CO
Dreaming of dining under the stars with your significant other and loved ones for your golden anniversary? Or perhaps you have always envisioned the perfect summertime wedding surrounded by gardens and nature? Chair Rental in Denver, CO, can make all your outdoor event dreams come true with our canopy and tent rentals. We have a wide range of equipment available that is guaranteed to be perfect for your specific event or occasion. Our experts at Chair Rental will help you from the planning stages to the day of the actual event to ensure that your rental runs smoothly.
Be sure to scroll all the way down to see all our options and our gallery.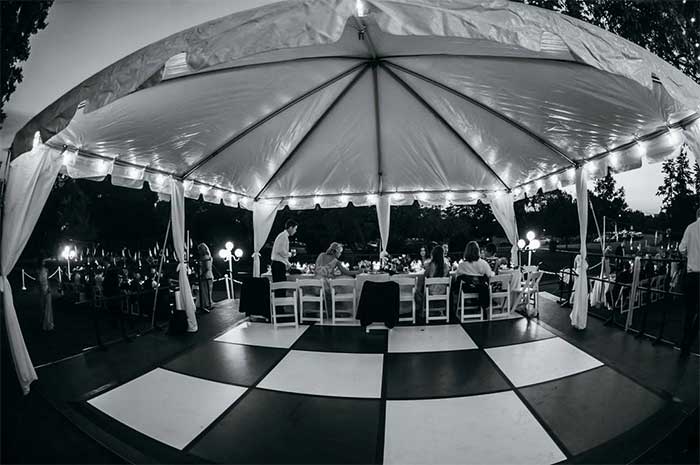 Canopy Solutions
Why choose a tent or canopy for your special occasion? Having an outdoor tent or canopy is a wonderful way to cultivate a relaxed and festive ambiance. Who doesn't enjoy dancing beneath the stars on a cool summer night? And in the event of a light shower or scorching day, your canopy or tent provides your guests with a cool refuge so they can still enjoy the atmosphere of being outdoors. With our beautiful tents and canopies, your event will be memorable and talked about for years to come.
Our Colorado Canopy and Tent Rentals
Not sure which tent would work best for your upcoming event? Have a look at our gallery of frame tents below to get a better idea of the perfect tent for your occasion. If you have any questions, or if you would like some more guidance on the perfect tent or canopy for your event, contact us at
303-936-0794 or email us at info@chairrentaldenver.com
Weights and Safety Items
Weights and Safety Items are available for rent Al a Carte for your guest safety and tie down needs, however these options are not negotiable with the rental of our tents. If the tent rented needs to be weighted instead of staked, the weights required for that tent will be added to your order.  If the tent rented is required to have a specific amount of safety items, they will be added to your order. Please contact us with any questions about any safety items or weight requirements for your guest safety or tie down needs at 303-936-0794  or email us at info@chairrentaldener.com
Let Us Complete Your Party
From your dream wedding to a beautiful, summer, outdoor party, Chair Rental is the place for Colorado canopy and tent rental. All of our tents come in several sizes to accommodate every event, and we include setup and take down within the cost of your rental. When you work with Chair Rental, you can rest assured that your party and event will be stress-free. Relax knowing we provide you with superior customer service and support. To find out more about our rental prices and delivery fees, contact us today! Please keep in mind that depending on your location, permit fees may apply. We look forward to providing you the perfect tent or canopy for your Denver, CO, event!
We Are So Much More Than Chairs